News
Self Published books
by Adrienne Thomas on May 26, 2023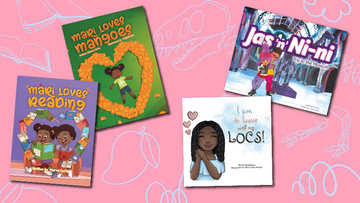 Below are some of the amazing self-published books we have in our online bookstore.
These authors and illustrators have created fantastic books through dedication and hard work.
Woke babies are proud to be able to give self-published books a platform to shine and grow.
I am in love with my locs - By Author: EJ Nembhard & illustrator: Chloe Louise Pinches.
A short book about loving and embracing your locs, with a few comparisons between having afro hair and having locs. And just because you love how YOUR hair looks, does not mean you hate everybody else's hair. Being able to appreciate that everybody's hair is different. Different is good!
Mari loves reading - By Author: Marva Carty & illustrator: Tullip Studio. 
Mari wants to win the library reading competition but Kevin can't find any books he likes. How is she going to help her friend and still win the big prize? Will they work together to get what they need? Join them in their next Caribbean adventure and find out!
Mari loves mangoes - By Author: Marva Carty & illustrator: Tullip Studio.
Mari's ready for the school holidays and she can't wait to eat loads of her favourite mangoes. Join her in a colourful Caribbean adventure as she learns how to listen, share and be a good friend!
Jas'n'Ni-ni - By Author: John Dunn & illustrator: Cennet Kapkaç
Jas 'n' Ni-ni trip to the museum, follows the exploits of 2 modern characters - sisters Jas and Ni-ni on a trip to the museum. Everyone is excited to visit the museum full of dinosaurs and other prehistoric creatures, but things soon take a more unexpected turn as Ni-ni's fascination with a Brontosaurus sets off a chain of crazy events.