News
Bedtime Classics Book Series
by Adrienne Thomas on May 26, 2023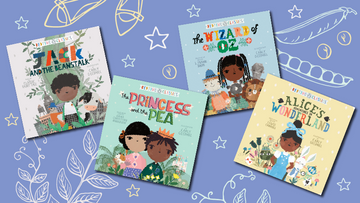 Amazing remakes of some childhood classics.
Kayla - Mum of 2 girls aged 2 & 4 years old
"My girls absolutely love these books, especially
'The wizard of Oz'
, This is usually their book of choice before bed and my 4 year old who is going through a princess phase at the moment won't leave the house without '
Princess and the Pea'. 
Alices Adventures in Wonderland - Alice tumbles down the rabbit hole and enters a magical place called Wonderland, where she meets some curious characters before awaking to find it was all a dream.
The Wizard of Oz -Dorothy and her dog, Toto, are whisked to the magical land of Oz where they meet the Tin Woodsman, the Scarecrow, and the Cowardly Lion. Mike Cavallaro transforms L. Frank Baum's world of Oz into a manga-influenced graphic novel.
Princess and the Pea - A King and Queen invite all the princesses in the land to their palace to find a proper suitor for their son, the prince. But when an unconventional princess stumbles through the castle gates, she's put to the ultimate test. By setting a pea under a large stack of mattresses, the royal family will discover if the girl is "princess material" once and for all.
Jack and the Beanstalk - When Jack is sent to market to sell his family's cow, he makes a trade for some magical beans, much to his mother's chagrin. To Jack's surprise, the beans grow into a giant beanstalk. Jack climbs all the way up and encounters a frightening giant. But when the giant is fast asleep, Jack climbs up and steals his treasures.