News
How does reading help develop a child's language and communication skills
by Adrienne Thomas on May 09, 2023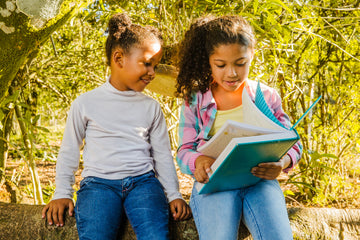 Reading is a fundamental skill that is essential for a child's academic and personal development. Not only does reading improve literacy and cognitive skills, but it also has a significant impact on a child's language and communication development. In this blog, we will discuss how reading helps develop a child's language and communication.
Expands Vocabulary: Reading books exposes children to new and diverse words, which helps to expand their vocabulary. As children encounter new words in the context of a story, they develop a better understanding of the words' meaning and how to use them in their conversations. This exposure to a range of new words is essential in building a child's language skills and communication abilities.

Enhances Comprehension: Reading helps to improve a child's comprehension skills by exposing them to a range of sentence structures and narratives. As children read, they learn to interpret the meaning of the text, develop their ability to understand context, and make connections between different elements of the story. This comprehension ability is essential in developing strong communication skills as children can use this ability to understand and respond to complex communication scenarios.

Develops Critical Thinking Skills: Reading helps children to develop critical thinking skills as they learn to analyze and interpret the text. This skill allows children to evaluate the content of the story, interpret its meaning, and make connections between different elements of the text. This analytical ability is crucial in developing strong communication skills, as it allows children to critically evaluate what they hear and respond in a thoughtful and informed manner.

Promotes Creativity: Reading encourages children to use their imagination and creativity to interpret and visualize the story. This creative process allows children to develop their own interpretation of the story, which can help them to express their thoughts and feelings in a unique and personalized manner.

Develops Social Skills: Reading also helps to develop social skills as it provides children with a range of stories and experiences that they can use to relate to others. By reading books about different cultures, traditions, and experiences, children can develop empathy and understanding towards others, which is essential for effective communication.
In conclusion, reading is a crucial tool for developing a child's language and communication skills. By expanding vocabulary, enhancing comprehension, developing critical thinking skills, promoting creativity, and developing social skills, reading helps children to become effective communicators. Encouraging children to read regularly, providing them with a range of books and stories, and discussing the content of the stories can help to foster a love for reading and enhance their communication abilities.